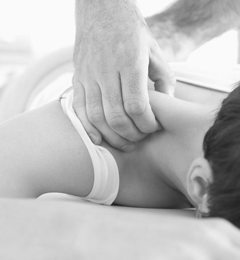 Myofascial Trigger Point Release
Myofascial trigger points are hypersensitive areas where muscle or soft tissue are constantly contracting. The pain they cause is not solely localized, but can also extend to other parts of the body. Symptoms of trigger points – which can be caused by injury, disease, or even participation in sports – include tingling, burning, weakness, and restricted motion.
These trigger points are surprisingly common as the culprit in pain concerns: studies show that up to 93 percent of all pain patients seeking medical intervention presented with myofascial trigger points. If untreated, more trigger points can develop, which can ultimately lead to Myofascial Pain Syndrome.
Trigger point release therapy is a solution. The therapy combines compression to the affected area, active and passive stretches, and damp heat to combat contraction. As a result, most patients see a decrease in pain and increase in mobility shortly after beginning therapy.